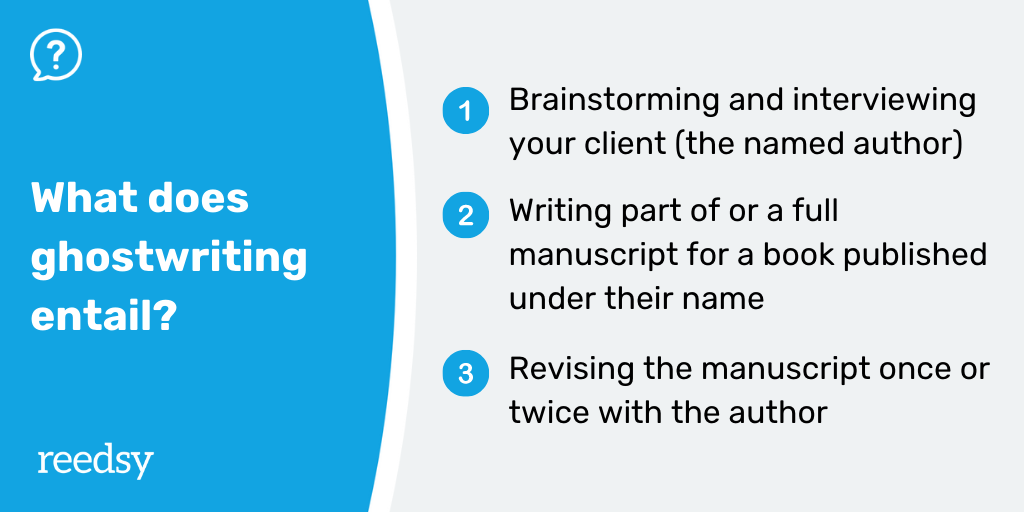 How do you get ghostwriting gigs?
Depending on what kind of ghostwriting you want to do, there are a number of different ways to become a ghostwriter. I want to take you through how to become a ghostwriter for books, as well as articles/blog posts.
By far the easiest way to get started in ghostwriting, is by writing your own personal story. There are so many publications looking for personal essays and for many of these magazines and newspapers, you don't have to attach your name to your article. So essentially, you are ghostwriting your own story.
The key to writing a personal essay is to choose one specific experience from your life and write about that. This is not a memoir, but one particular snapshot from your life that can be inspiring, challenging, thought-provoking, confusing, exciting and so forth.
Read often and widely
Future clients will be looking for ghosts who understand their vision, regardless of the field they specialize in. That means every successful ghost needs to be familiar with a variety of tones and styles, have a strong grasp of the components of good storytelling, and know the structural requirements of different types of text.
One of the best ways to prepare yourself for this is simple: read a lot, and read widely. Read everything you can get your hands on — from instruction manuals to posters at the dentist office to the latest thriller releases, the more widely read you are, the better you'll be able to meet your future clients' wishes.
Whether it's a particularly comical Tinder bio or a striking yet sober newspaper article, a ghostwriter is a master at understanding the requirements of the occasion, so make sure you stay active and take plenty of notes as you read along. You can use this as inspiration later when it comes to your own writing — you never know what may come in handy in the future!
Practice writing different styles and voices
With plenty of exposure to various forms and styles of writing, it's time to put your own pen to paper. And without the pressure of a deadline or the need to perform for a paying client just yet, there's no better time to experiment than now. So don't limit yourself to just one or two categories of writing — spread your wings and let your quill loose!
"The hallmark of a great ghost is the ability to make the final product sound like your client, to capture their energy and their vision. The only way to get good at this is to force yourself to write outside of your usual voice and your genre comfort zone. Try mimicking the styles of some of your favorite authors in short exercises in your spare time."
And though coming up with new ways to practice can take a bit of creativity, you'll find variations on the written word everywhere once you start looking. Why not hone your skills by writing that email your friend has been worried about sending to their boss, or their blog update about their latest trip? Just remember that it should sound like your friend wrote it, and not like you did.
Become an expert interviewer
Award-winning ghostwriter Jon Reiner says that a successful ghostwriter is "first a good listener, and then a good writer." Listening to your future clients, asking them the right questions, and noticing their habits, manner of speech, and their individual perceptions will all help as you proceed to construct their voice on paper (or, rather, on your choice of writing app).
Just how important is this? British ghostwriter Johnny Acton suggests thinking of it in terms of voice; always paying attention to ensure your writing actually sounds like the client. "If you write the football player Wayne Rooney saying something like 'I was the most precocious of my numerous siblings,'" Acton notes, "then something has obviously gone wrong."
Step 11: Publish
Finally, once your book has been edited and rewritten, you can publish your manuscript. If you outsource this part of the process, there is an associated monetary expense. If you do it yourself, you'll be paying for it in time. Be sure to build that cost in your ghostwriting fee, unless the client is doing this on their own.
This book publishing process, or something similar is followed by most traditional publishing companies. In fact, the publishers usually foot the bill for the editing and proofreading parts of the process. That does not absolve the writer from the responsibility of presenting a book manuscript ready to publish.
If you are planning to publish your own book, you should follow a process similar to the traditional publishing model because it has been tried, tested, and proven a thousand times over. It works because it produces a better manuscript, and a better book is likely to sell more copies. If you're a ghostwriter working through this process for clients, you'll provide a much better service to the client and likely to attract more clients in the future.
Allen Taylor is the author of I Am Not the King and publisher at Crux Publications. He provides book ghostwriting services through Taylored Content. His forthcoming book titled Is Social Media Ready for Decentralization?: A Critical Look at Blockchain Projects will be published by Business Expert Press in 2021.
Source:
https://thefreelancersyear.com/blog/how-to-become-a-ghost-writer/
https://blog.reedsy.com/freelancer/how-to-become-a-ghostwriter/
https://writingcooperative.com/why-ghostwriters-charge-35k-minimum-to-write-a-nonfiction-book-3e3ef5f4ff7b